Subscribe to my newsletter
Back to archive Looking ahead at Practical SwiftData
Hey folks! What's up?
Going into WWDC this year I knew that the odds were that Combine would be more obviously phased out, and with every year that's gone by for the past few years the odds of a big push to make Core Data more Swift friendly was more and more likely to happen.
This year, both of these things happened. It's pretty clear that Apple doesn't consider Combine to be an essential tool in the iOS ecosystem. That does't mean it's a useless framework, or that you should stop using it today, but it does mean that's it's time to take a really good and serious look at Async Sequences and Async Streams to see how they can be used to achieve similar reactive APIs to those that we have with Combine. For the time being you'll find that Combine still solves some problems that aren't yet fully solved by Async Sequences, but it does look like the Swift team is working towards this goal. We'll see what the future holds. For now, if you're curious to learn a bit more about Async Sequences and how they relate to Combine, I did some comparisons on my blog, as well as a good look at lifecycle management.
For a more comprehensive overview, I recommend you take a look at Practical Swift Concurrency.
I'm currently in the process of working on yet another new book in the Practical series called Practical SwiftData. This book will take an in-depth look at SwiftData, and it will help readers to migrate from Core Data over to SwiftData. It's pretty cool that SwiftData is built on top of Core Data because this means that all of your knowledge about Core Data is still relevant, and will still make sure that you can use SwiftData to its full potential. What's even cooler is that you don't have to fully understand Core Data to make use of SwiftData.
In a few weeks I hope to open up a pre-release page for Practical SwiftData where you can grab the book at a very decent price (and with an extra discount if you already own Practical Core Data), allowing you to follow along with the writing process and read new chapters as they become available.
One last thing, I've added a second day for my online Swift Concurrency workshop on July 20th. The workshop starts at 6:30pm CEST which makes it perfect if you want to attend after work, and it's a good time for those in the USA to attend during the day. There's only 15 tickets available so make sure you don't miss out!
Hope you have a great week!
Cheers,
Donny
---
This sponsored message helps keep the content on this site free. Please check out this sponsor as it directly supports me and this site.
---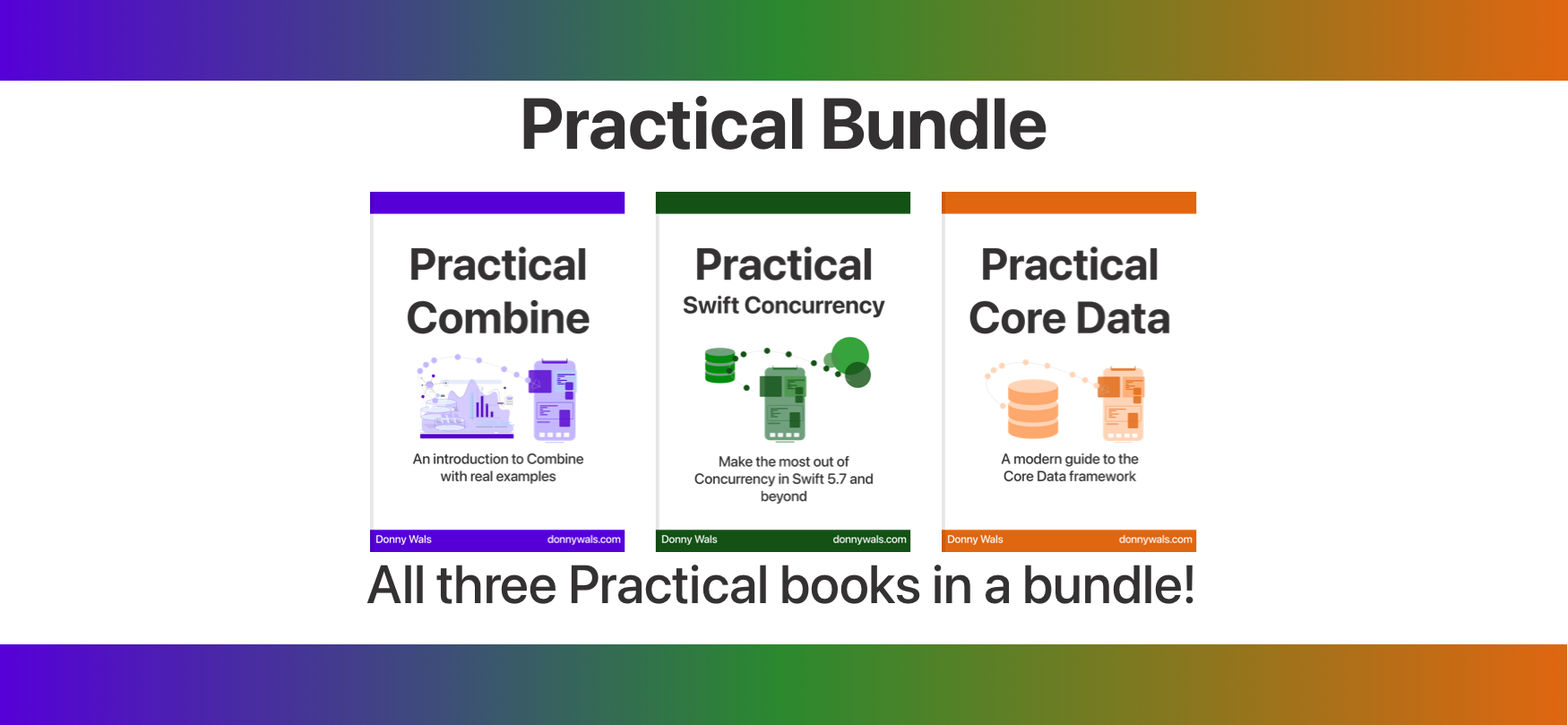 Level up your development skills with my Practical Bundle. The bundle contains all three of my Practical books. You will get Practical Combine, Practical Core Data, and Practical Swift Concurrency in a single convenient purchase. The bundle saves you about $15 compared to buying all three of my books. It's a great deal, and a fantastic way to deepen your development knowledge.
Check out the Practical Bundle
---
🎶 Currently on repeat 🎶
If you follow me on Twitter you probably know that I play guitar. I'm a huge music lover and want to share this with you. In this section I will share a new album that I've been enjoying a lot every week.
Somehow I missed that The Used had released a new album a while ago. After giving this one a few listens, it's been in my regular routine of music I listen to. It's really cool how close this album is to The Used's typical sound which makes it feel like I've known this album for a long time even though it's quite new. I can only recommend you go check it out 😄
---
Other content that I really want to share with you
Swift Concurrency really has been a game changer for how I handle concurrent work in apps. If you want to learn all the ins and outs of Swift Concurrency and how you can migrate existing apps over, make sure to grab a seat in July's Swift Concurrency workshop. This second edition of teh workshop takes place on July 20th from 6:30PM to 11pm CEST which makes it a perfect fit for folks that would like to join from the US for example.
SwiftUI has gained support for metal shaders in iOS 17 and some folks have been going completely nuts showing off how cool the effects are that we can achieve when we leverage metal shaders. Khoa has started learning about them and he's created a fantastic thread full of good Metal related resources.
Copyright © 2023 Donny Wals, All rights reserved.
You are receiving this email because you opted in via my website.
Don't want to receive these emails? Unsubscribe here