Subscribe to my newsletter
Back to archive I'm loving SwiftData
Last week was WWDC and what a week it was! We didn't just get a mixed reality headset that looks like it will redefine what these headsets should be like, we also got a super promising new persitence framework for Apple's platforms along with verious exciting new features like a new Observation framework as well as support for macros in Swift.
There's lots of stuff to unpack and it'll probably take me weeks to catch up but the one thing I know for certain is that I will be writing a new book in the next couple of months.
SwiftData really looks amazing and I'm super excited to be exploring it, and I will for sure be publishing a book titled Practical Swift Data. I'm sure people (including me) would be dissappointed if I didn't.
Even though SwiftData uses Core Data as its core, the interface we interact with has changed completely. I spent some time thinking about whether it made sense to update Practical Core Data with bits and pieces on SwiftData but there would be so much to add and augment that it just didn't make sense to me to have a book that goes in depth on both frameworks.
Because SwiftData uses Core Data under the hood, and it doesn't actually do much to try and hide this fact, your Core Data knowledge will be super useful when you start working with SwiftData. For that reason, I will be offering a persistence bundle alongside the two individual books so that you can choose to pick either technology or both as needed. Existing and future Practical Core Data owners will be offered a good discount on Practical SwiftData once I set up a pre-release purchase option so if you own the Core Data book, stay tuned for that.
If you've been following WWDC 2023 I'd love to hear from you which sessions and announcements you liked most, just hit reply to this email and let me know 😄
Cheers,
Donny
---
This sponsored message helps keep the content on this site free. Please check out this sponsor as it directly supports me and this site.
---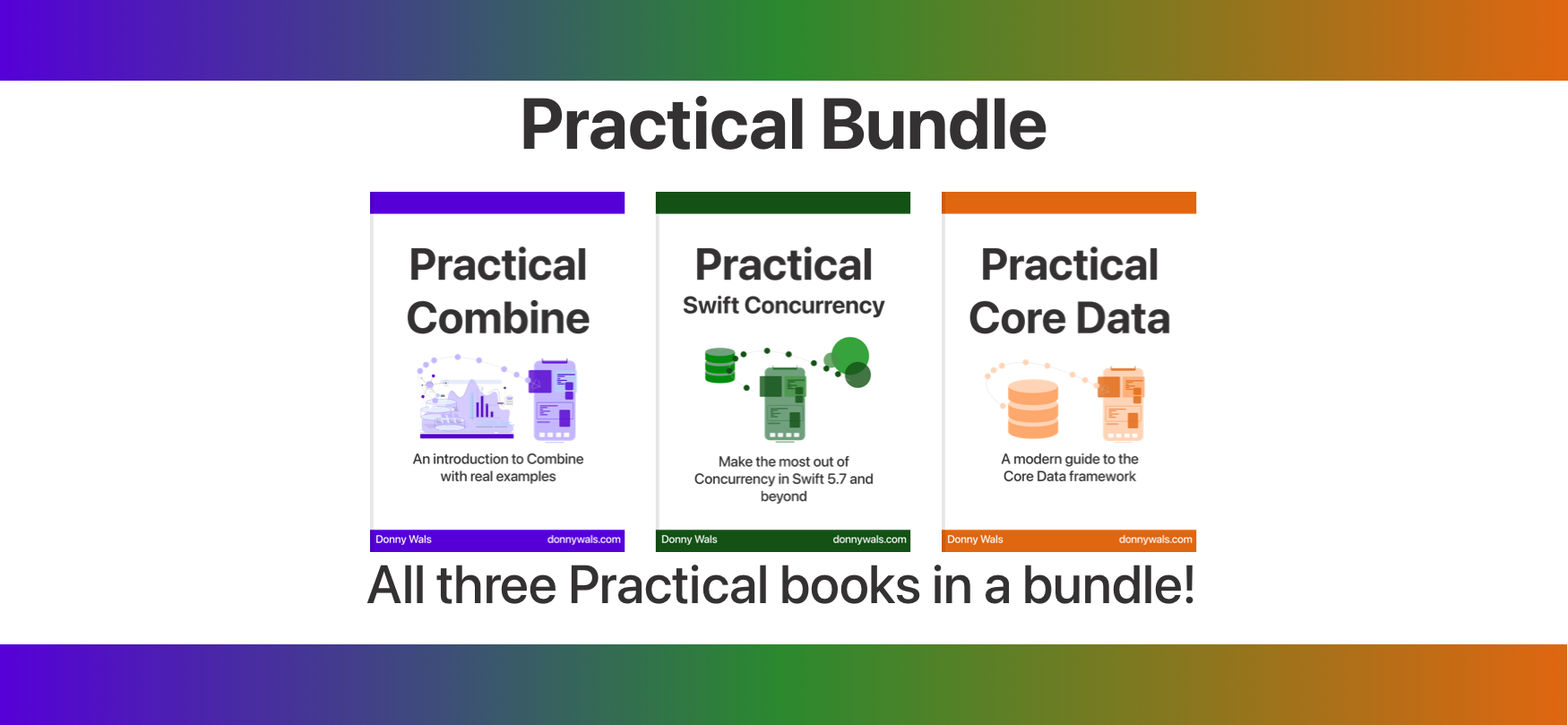 Level up your development skills with my Practical Bundle. The bundle contains all three of my Practical books. You will get Practical Combine, Practical Core Data, and Practical Swift Concurrency in a single convenient purchase. The bundle saves you about $15 compared to buying all three of my books. It's a great deal, and a fantastic way to deepen your development knowledge.
Check out the Practical Bundle
---
🎶 Currently on repeat 🎶
If you follow me on Twitter you probably know that I play guitar. I'm a huge music lover and want to share this with you. In this section I will share a new album that I've been enjoying a lot every week.
I've been doing lots of work at my news house and I'm one of these folks who can't work with some good music to keep me going. Spotify recommende Pendulum at some point and I figured I'd roll with it and put on this album. It's been a while since I had last listened to them and I have to say, I fell in love all over again. If you haven't heard of Pendulum before and you like music that forms a very interesting bridge between rock and drum 'n bass, go check them out!
---
Other content that I really want to share with you
After seeing a few folks wonder about how Bindable will impact Binding, and even asking whether Binding will go away entirely I figured I'd write a short post to explain what Bindable is and how it's different from Binding. If you're wondering about the same, this post is for you!
Both macros and property wrappers can be written with an @ prefix like @Observable and @Published for example. However, property wrappers and macros are quite different even though they share a little bit of syntax on the declaration side. In this post I explain their differences.
In this video, Tunde demonstrates how you can build a Todo application using SwiftData. Notice how this video is only a little more than 20 minutes long! If that's not proof that SwiftData is much easier to deal with than CoreData I don't know what is!
Copyright © 2023 Donny Wals, All rights reserved.
You are receiving this email because you opted in via my website.
Don't want to receive these emails? Unsubscribe here