Subscribe to my newsletter
Back to archive Debugging and fixing problems
Last week, one of my client projects turned out to have had a pretty big bug for a while now. Neither my client nor I had experienced this bug yet, and when we heard of it from one of the client's biggest customers we were puzzled. Why wasn't everybody seeing this issue? Why couldn't we reproduce this? And why was this bug so consistent and easy to reproduce for the customer?
Whenever we hear of these reports it's all too easy to shift blame to the customer "oh but they must be doing something weird", "they probably just have a terrible internet connection which is causing issues", "I tried to reproduce but I can't! It's not possible!".
However, the truth of the matter is that there's a serious bug that is affecting a real customer, and it's your job to investigate and hopefully fix it.
At the start of my career I would look at my code for a few minutes and throw my hands up "It's not possible!".
I'm not sure why I thought that was an okay response. It clearly was possible.
Nowadays, I've learned to stay calm and to collect as much information and facts as I possibly can. Learn more about the users experiencing the issue. If you can, try and figure out their workflow. How and when do they use the app?
If the problem you're investigating involves networking, Proxyman and Charles are your best friends. They will allow you to inspect the network traffic from your app. Maybe there's something out of the ordinary there. Explore every path from symptom to code. Maybe there's more than one cause for your bug.
In the case of this client, the bug involved uploading files to sync them to a server. The issue only happened to the client's largest customers. After a couple of days of simulating bad networking conditions, server failures, and exploring pretty much every path from upload to failure to (hopefully) reproducing the issues we figured out what the problem was.
It was a mixture of our backend having paginated responses (that the app didn't know of), power users having lots of uploaded files, and the app having a bug with uploads that were no longer part of the backend response being marked as "not uploaded" and subsequent re-uploads failing.
Cracking this case involved people across teams.
One of the most important things that happened was that nobody was willing to take a "this can't happen" stance towards the bug. We knew something was up. We saw it happen. We just didn't know how to reproduce the problem yet. Thorough analysis and constantly re-evaluating our assumptions is what led us to understand the problem at hand and fix the issue.
It's not easy to debug an obscure issue, but the bug exists. And denying it will not fix it.
Cheers,
Donny
---
This sponsored message helps keep the content on this site free. Please check out this sponsor as it directly supports me and this site.
---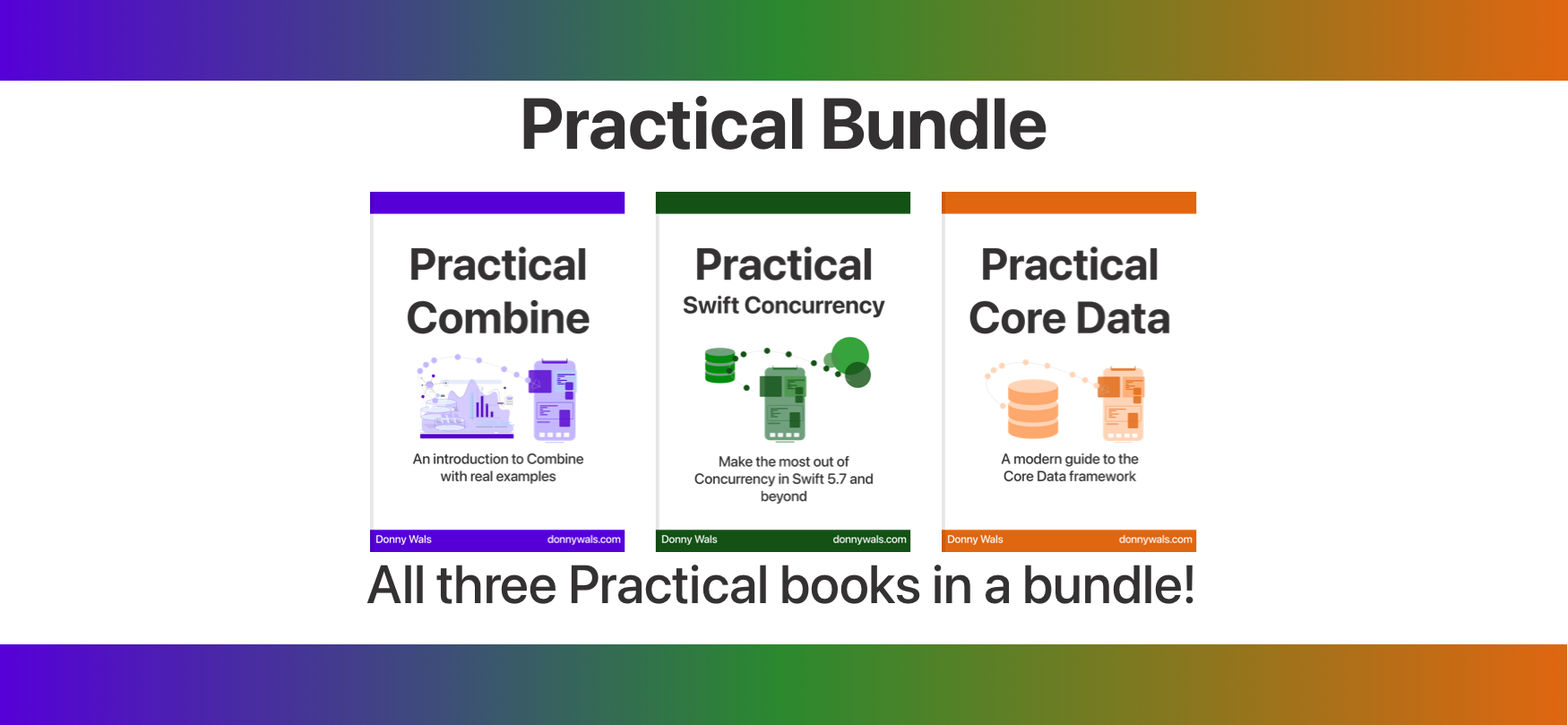 Level up your development skills with my Practical Bundle. The bundle contains all three of my Practical books. You will get Practical Combine, Practical Core Data, and Practical Swift Concurrency in a single convenient purchase. The bundle saves you about $15 compared to buying all three of my books. It's a great deal, and a fantastic way to deepen your development knowledge.
Check out the Practical Bundle
---
🎶 Currently on repeat 🎶
If you follow me on Twitter you probably know that I play guitar. I'm a huge music lover and want to share this with you. In this section I will share a new album that I've been enjoying a lot every week.
In a few weeks I'll be seeing Blink-182 live. So naturally I'm refreshing my Blink-182 sing along skills now!
---
Other content that I really want to share with you
If you want to get into VisionOS and SwiftData, this video from Florian is a fantastic way to jump in. It's an entire course that gets you from 0 to understanding the key concepts in just under an hour. Definitely one worth watching!
Copyright © 2023 Donny Wals, All rights reserved.
You are receiving this email because you opted in via my website.
Don't want to receive these emails? Unsubscribe here