Subscribe to my newsletter
Back to archive How did we get here?
Over the past week or two I've been thinking a lot about my career and what I've been up to in the last few years. I guess that's what taking some time off to go on vacation does to a person.
When I (re)started my journey into blogging I honestly didn't expect it would go down the way it did. In 2019 I thought I would write a few blog posts on testing and protocols for dependency injection, tweet about them, and then kind of lose the itch to share content. That's more or less what's happened in the past and I didn't see any reason that this time would be any different.
Little did I know that the itch wouldn't go away that easily. I missed writing the "Mastering iOS X Programming" books that I had written in the years before, but I didn't want to go back to writing for a publisher so the blog was a really nice outlet. What was even better is that people seemed to like what I wrote. They shared it, they talked about it, and they told me they found my posts useful.
It didn't take long for me to have a small list of posts I wanted to write, and ever Monday I would be so excited to publish a new post and ind out what people thought. I wasn't just solidifying my own learnings, I was helping people and it felt great.
A few years later I decided to try self-publishing Practical Combine which went well, and a few years later I new have two more books, and I'm self-employed working on my blog, books, workshops, and doing some consulting too. It's been quite the ride.
When put like this it sounds like my journey was pretty much an overnight success. But like any overnight success, this one had been years in the making.
I started my blog in 2016. I mostly wrote about web development and later started mixing in iOS stuff. Topics were often small, like tools I enjoyed or stuff I had learned. Those posts didn't gain much traction but they were enough to get approached by Packt Publishing. They asked if I would write a book on iOS 10. I said yes, mostly because I was curious about how the process of writing a book would go, and I was in between jobs at the time anyway.
After writing my first book I did my first conference talk, some local meetup talks, and after that I didn't do much for a while until I started writing my iOS 11 book.
It wasn't until the second half of 2019 that the stars aligned, I published something, and things took off from there.
In 2021 I made the big decision of quitting my day job and focussing on chasing my goal of working on things I love every single day and I haven't regretted that for a single moment. It's a lot of hard work, but it's so rewarding to be chasing my dreams and doing the things I love.
If you're reading this, and you're looking to develop and grow your career or yourself you should realize that your biggest success won't be captured as a goal that you'll achieve this year. It will be the result of taking small, important, and consistent steps every day, week, or month. It might take several years to get where it is you'd like to go, so don't focus on getting there. Focus on taking steps instead, and don't stop when you're reached your destination. Keep taking those steps, keep growing, you'll amaze yourself with what you can achieve.
Cheers!
Donny
---
This sponsored message helps keep the content on this site free. Please check out this sponsor as it directly supports me and this site.
---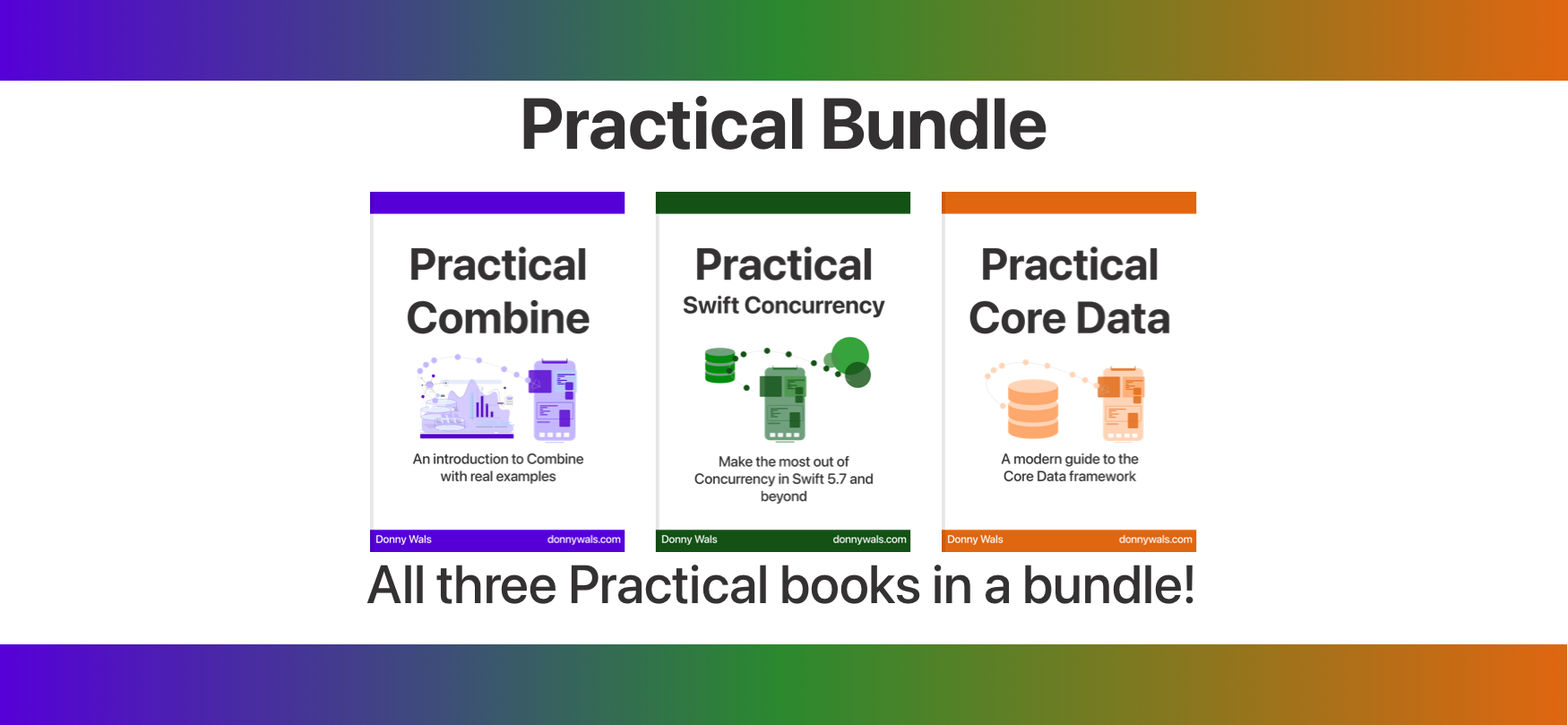 Level up your development skills with my Practical Bundle. The bundle contains all three of my Practical books. You will get Practical Combine, Practical Core Data, and Practical Swift Concurrency in a single convenient purchase. The bundle saves you about $15 compared to buying all three of my books. It's a great deal, and a fantastic way to deepen your development knowledge.
Check out the Practical Bundle
---
🎶 Currently on repeat 🎶
If you follow me on Twitter you probably know that I play guitar. I'm a huge music lover and want to share this with you. In this section I will share a new album that I've been enjoying a lot every week.
I've been following this band for a while now and I can't say I've disliked any of the work they've put out. Of course, I like some work better than other work but overall I love how this band keeps developing their sound and the directions they take. This album is no exception.
---
Other content that I really want to share with you
On july 20th I'm organizing a workshop to help you get started with Concurrency in Swift. We'll cover async / await, actors, structured concurrency and more. By the end of the workshop you'll be able to confidently start writing Concurrent code in Swift. There's only a few tickets left so don't miss out!
Check out this week's weekly check-in Tweet to see what the iOS community is up to 😄
Copyright © 2023 Donny Wals, All rights reserved.
You are receiving this email because you opted in via my website.
Don't want to receive these emails? Unsubscribe here