Subscribe to my newsletter
Back to archive It's WWDC season!
Let me start off by saying happy Monday to you all! Hope you're all ready to rock this week and make the most out of it.
We're at that time of year where summer here in The Netherlands is finally starting to pick up, days are long and warm and I'm getting more excited about what WWDC might bring this year with every passing day.
I don't like doing wishlists for WWDC much, mostly because my wishlist would essentially be "improvements across the board" every year, and every year Apple does pretty much exactly that. One thing I'm very curious about this year is whether Apple will build out and explain the story and use cases for Async Sequences more. It seems pretty clear that Apple considers Async Sequence to be something that eventually can replace Combine but at the moment the path to how they plan to do that isn't exactly clear. New proposals like Observability look like they are setting us up for a new direction so I'm curious to see where Apple takes this.
And of course there are lots of folks waiting for a Core Data replacement that's more Swifty. It's often referred to as SwiftData in the community.
Now personally, I don't think Apple stands to gain much from completely replacing Core Data. I think it will make more sense for them to continue their push towards more Swifty interactions between Core Data and Swift, potentially doing a big overhaul of the public facing APIs while keeping the old Core Data core. I'm also hoping for Swift Concurrency support with Core Data. Right now we don't have a good way to have Core Data and Concurrency be friends but hopefully with custom executors we'll be able to have some setup where we use actors that leverage custom executors with Core Data to have thread-safe Core Data code.
The thing I'm most excited about this WWDC is our amazing community. Every year once WWDC gets underway we all join together online and in person to talk about WWDC. Bloggers write about what they're finding, learning, and thinking. Those on YouTube record videos of their initial reactions and findings. And all of this content will once again be collected in this awesome repository that Paul Hudson created.
Have a great week, and see you next week!
Cheers,
Donny
---
This sponsored message helps keep the content on this site free. Please check out this sponsor as it directly supports me and this site.
---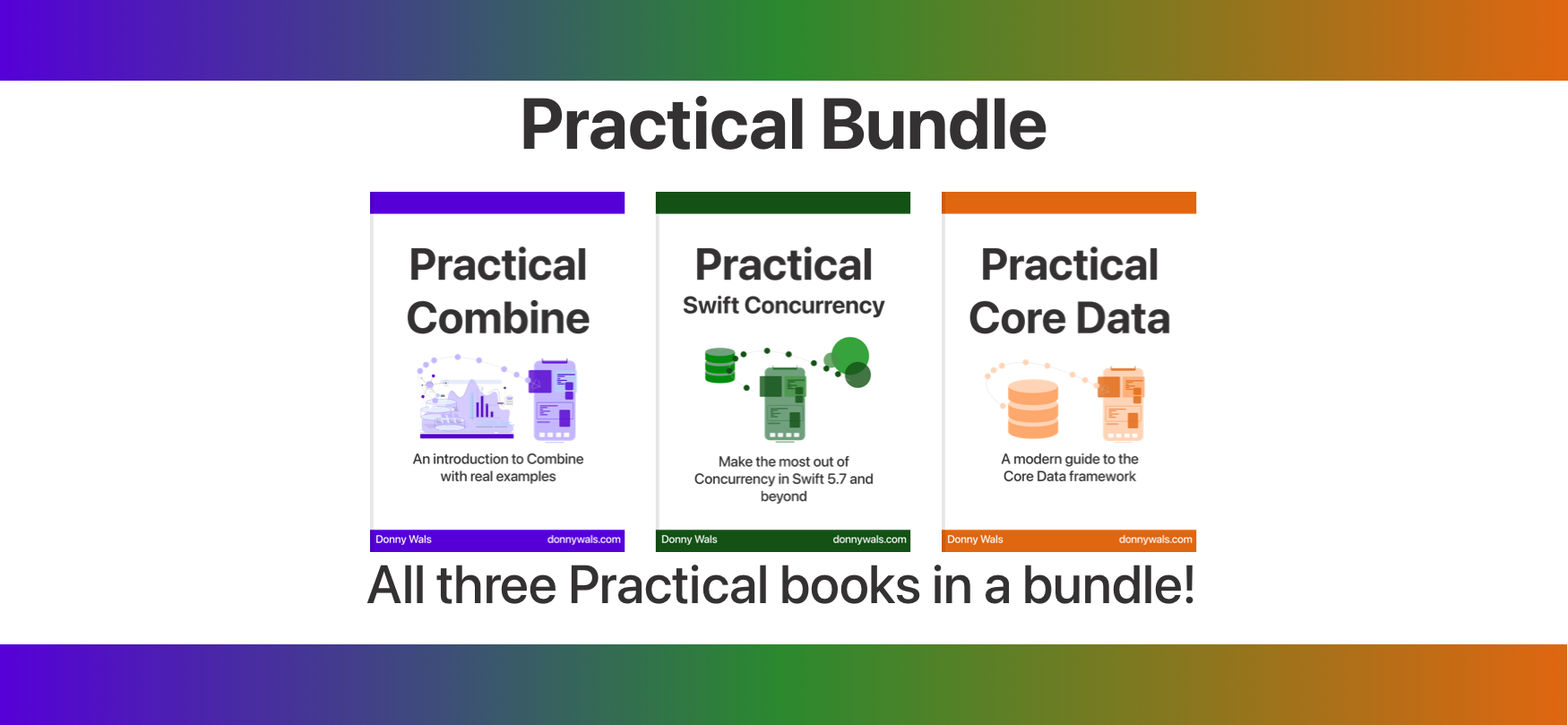 Level up your development skills with my Practical Bundle. The bundle contains all three of my Practical books. You will get Practical Combine, Practical Core Data, and Practical Swift Concurrency in a single convenient purchase. The bundle saves you about $15 compared to buying all three of my books. It's a great deal, and a fantastic way to deepen your development knowledge.
Check out the Practical Bundle
---
🎶 Currently on repeat 🎶
If you follow me on Twitter you probably know that I play guitar. I'm a huge music lover and want to share this with you. In this section I will share a new album that I've been enjoying a lot every week.
Last week YouTube recommended some Underoath videos and that prompted me to give one of their classics another few listens. It may or may not be something you enjoy but Underoath is definitely one of those bands that I'll come back to every time.
---
Other content that I really want to share with you
Last week I shared an incorrect link so let's try again with the correct link… On June 29th I'm organizing a half day workshop that people can attend remotely to learn more about Swift Concurrency. Make sure to check out the workshop if you want to learn more about Swift Concurrency, how you can start using it, and what its caveats are. If the workshop outline sounds like something that would benefit your entire team, let me know and we can set up a private workshop for you.
There's not much on this link just yet but once WWDC gets underway next week there will be tons of great content to read and explore. Bookmark this link now and don't miss out on anything!
Copyright © 2023 Donny Wals, All rights reserved.
You are receiving this email because you opted in via my website.
Don't want to receive these emails? Unsubscribe here