Subscribe to my newsletter
Back to archive Different learning styles and adapting
The past half year or so have been somewhat of a rollercoaster for me. Between doing tons of work on our new house, Twitter becoming a shadow of its former self and eventually being renamed to X, and trying out new ways to reach and interact with my audience(s) I've noticed that times change and it's important to know when to adapt and when to stick with the plan.
For years I've not been doing video work. It always felt awkward to me, it's a lot of work, and I personally prefer learning through text.
However, I know that there are lots of folks, especially people younger than me, that prefer video learning over text.
So over the past months I've been trying out video-based ways of reaching my people which I'm honestly kind of enjoying. I've done some online workshops which was a really fun experiment and I will most certainly be doing more of them. A monthly workshop sounds like a great plan and my next one will be about SwiftUI. I have yet to select a date but I'm looking at September and October already.
I've also started recording videos for my new blog posts. The previous two posts I published both ahd text and video published alongside each other and people seem to really enjoy this! Recording myslef still feels a little awkward but I'm sure I'll get more comfortable. Getting my setup right will surely take some time too, especially since I'll be moving to a new office space soon so I'll be tweaking my setup more and more after the move.
I don't think I'll ever stop creating text-based materials, but these recent ventures into more video-oriented content have been fun and I intend to explore this further and further.
My question to you is, which do you prefer? And if you like both video and text, are there scenarios where you have a preference or is it always 50/50 for you?
Cheers!
Donny
---
This sponsored message helps keep the content on this site free. Please check out this sponsor as it directly supports me and this site.
---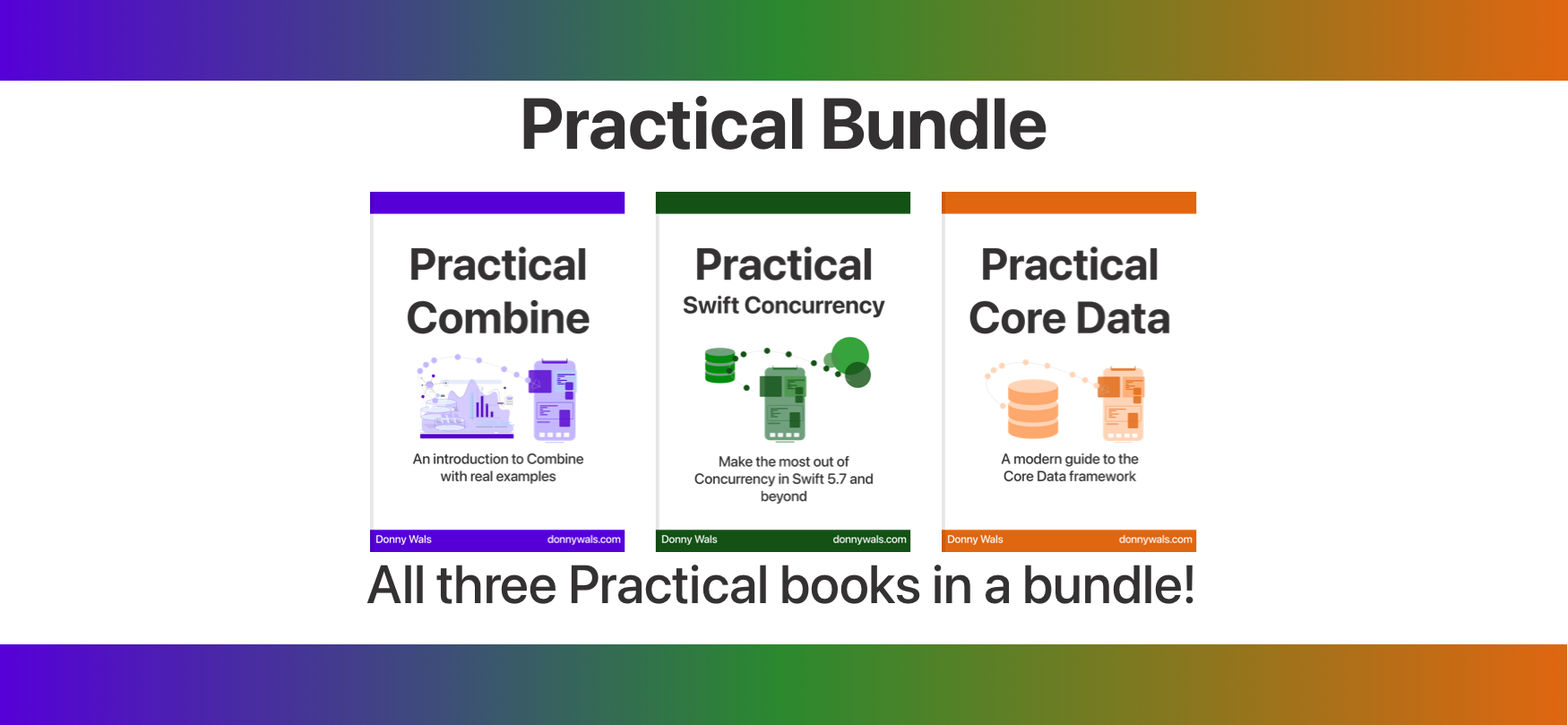 Level up your development skills with my Practical Bundle. The bundle contains all three of my Practical books. You will get Practical Combine, Practical Core Data, and Practical Swift Concurrency in a single convenient purchase. The bundle saves you about $15 compared to buying all three of my books. It's a great deal, and a fantastic way to deepen your development knowledge.
Check out the Practical Bundle
---
🎶 Currently on repeat 🎶
If you follow me on Twitter you probably know that I play guitar. I'm a huge music lover and want to share this with you. In this section I will share a new album that I've been enjoying a lot every week.
I don't think Beartooth can write a song that I really don't like. They've been working on a new album and I've really enjoyed every single so far. I'm excited to hear what the full album will sound like!
---
Other content that I really want to share with you
In this post I explain how you can make your SwiftData models codable. It doesn't cover _everything_ you might want to know about Codable and SwiftData (mainly I don't explain how to effiiciently deduplicate your SwiftData storage) but it's a really good starting point for builing a SwiftData based caching solution.
Copyright © 2023 Donny Wals, All rights reserved.
You are receiving this email because you opted in via my website.
Don't want to receive these emails? Unsubscribe here