Subscribe to my newsletter
Back to archive Is SwiftData ready for prime time?
During this year's beta cycle my eyes are entirely on SwiftData, and I have to say it's an impressive framework. It makes defining a data model straightforward, and it hides all the nitty gritty ugly details around data persistence from developers which is great.
However, there's a list of things I've been trying to do with SwiftData that I just can't seem to get right just yet. I'm using the examples from Practical Core Data as a guide for the kind of things that I want to be able to do with SwiftData (and so I can use them as a foundation for Practical SwiftData) but at the moment it seems like pushing SwiftData beyond the basics is not what Apple intends us to do just yet.
For example, in apps that use Core Data I like to have a create/edit screen for my models where that screen operates on a child context rather than my view context. This allows me to modify a model directly and easily decide to discard or persist the changes that I've made. With SwiftData you can create a custom context and model actor to build your child context but saving this child context must be done manually, and your main context doesn't see the changes immediately. This is something that I had working in Core Data without any extra work.
The new predicates API that's used by SwiftData looks super clean too but unfortunately it's not yet as powerful as NSPredicate is. For example, we can't use Predicate yet to perform predicates similar to "%k CONTAINS[cd] %@" which is something that I regularly use for text-based searches in Core Data.
And then there's migrations that seem to require some arbitrary arguments to passed that weren't outlined in the WWDC videos and aren't documented anywhere at the moment.
I'm sure features like these and a bunch of others like more iCloud support, Sectioned requests and dynamic queries will get proper support like they have in Core Data today. It remains to be seen whether we'll get all of this in the iOS 17.0 release or in a later update (possibly iOS 18?). I'm optimistic on the future of SwiftData but if I had to make a call on whether not I would ship an app that might need more than the basic today, I would probably go with Core Data for now. That said, I think SwiftData deserves our attention, and it's worth spending some time to see whether SwiftData can fit the needs of your app. It's built on top of Core Data so you can be sure that you're building your app on top of a tried and tested persistence framework. You're just using a limited abstraction around this framework if you're using SwiftData.
What are your thoughts on SwiftData so far? Anything you wish it did? Anything you absolutely love? Reply to this email to let me know :D
Cheers,
Donny
---
This sponsored message helps keep the content on this site free. Please check out this sponsor as it directly supports me and this site.
---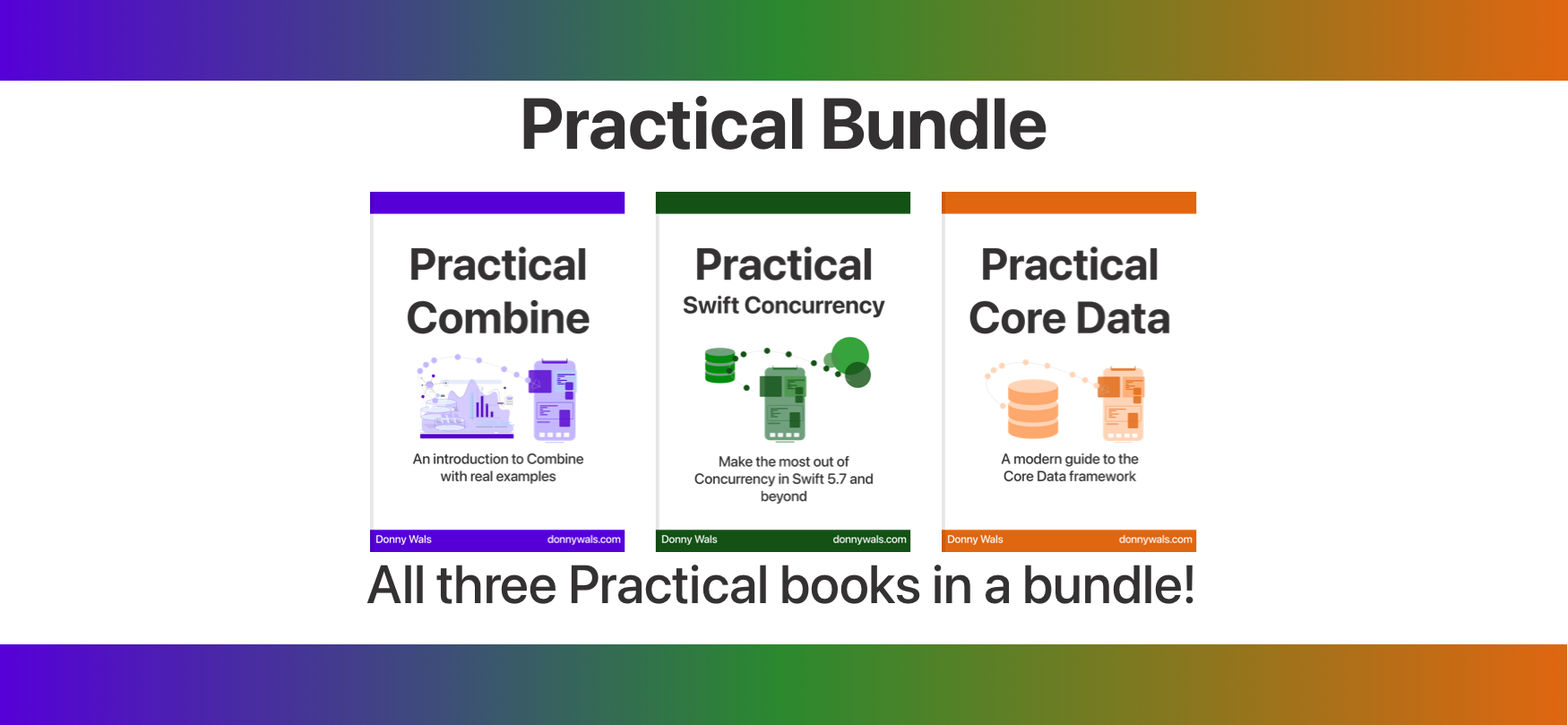 Level up your development skills with my Practical Bundle. The bundle contains all three of my Practical books. You will get Practical Combine, Practical Core Data, and Practical Swift Concurrency in a single convenient purchase. The bundle saves you about $15 compared to buying all three of my books. It's a great deal, and a fantastic way to deepen your development knowledge.
Check out the Practical Bundle
---
🎶 Currently on repeat 🎶
If you follow me on Twitter you probably know that I play guitar. I'm a huge music lover and want to share this with you. In this section I will share a new album that I've been enjoying a lot every week.
I'm not even going to do a full explanation for this one. It's a classic.
---
Other content that I really want to share with you
On November 8th and 9th Do iOS will take place in Amsterdam. I will be there as a workshop host, and there are already a handful of speakers announced. It's looking to be a great confernece so I highly recommend that you check it out!
Copyright © 2023 Donny Wals, All rights reserved.
You are receiving this email because you opted in via my website.
Don't want to receive these emails? Unsubscribe here