Subscribe to my newsletter
Back to archive Swift Island and iPhone 15
This week's newsletter is a bit later than usual for a good reason. I wanted to wait until after the Apple event to write this one so that I could throw in my two cents on the new phones (even though you probably shouldn't really care about my thoughts on the new iPhones).
But before we get to iPhone, let's talk about Swift Island!
I spent last week on an island in The Netherlands called Texel. This island is home to more sheep than people, and it's a very nice and quiet place to spend some time. The folks organizing Swift Island made a really good choice IMO to have their conference on Texel. It's a nice place, and what's even nicer is that it's home to the brewery for one of my favorite beers. So that was a nice bonus on top of the workshops!
The format for Swift Island is a two day conference focussed on workshop. On each day there are four mentors, each hosting their own workshops. The idea is that each workshop is repeated three times throughout the day which means that as an attendee you can attendee 3/4 workshops on each day.
I attended workshops on SwiftData, VisionOS, Swift 5.9, watchOS, WidgetKit, and SwiftUI animations. All workshops were a lot of fun, the mentors were great and it was a lot of fun spending some time with them.
As if all of that doesn't already make Swift Island great, it's also a family friendly conference. This means that it's actually encouraged to bring family (and kids!) to the conference venue and there is a seperate program for partners which is really nice. Having family around really makes the conference feel that much more personal and intimate.
Oh and you know what else Swift Island does really well? They have a 50/50 split between male and female mentors. I know that this is a non-negiotable goal for the organizers and I just wanted to say that I absolutely love that they do this. It's a really good way to shine a spotlight on the amazing women we have presenting and mentoring in our community.
A little birdie has told me that Swift Island will be back next year so I'll be keeping a close eye on them to make sure I grab a ticket as soon as they become available.
Moving on to iPhone 15. I can really be short on that one, I like it! I love the titanium look, and I'm excited to see what people end up doing with the configurable button that replaces the ringer toggle. Also spatial video sounds awesome and I can't wait to try it out. I already know I'll be pre ordering a blue Pro. Now all I need to decide is whether I'll stick with 6.1" or if I should go to 6.7" and get that better camera…
Are you pre ordering a new phone this Friday? If so, which one?
Cheers!
Donny
---
This sponsored message helps keep the content on this site free. Please check out this sponsor as it directly supports me and this site.
---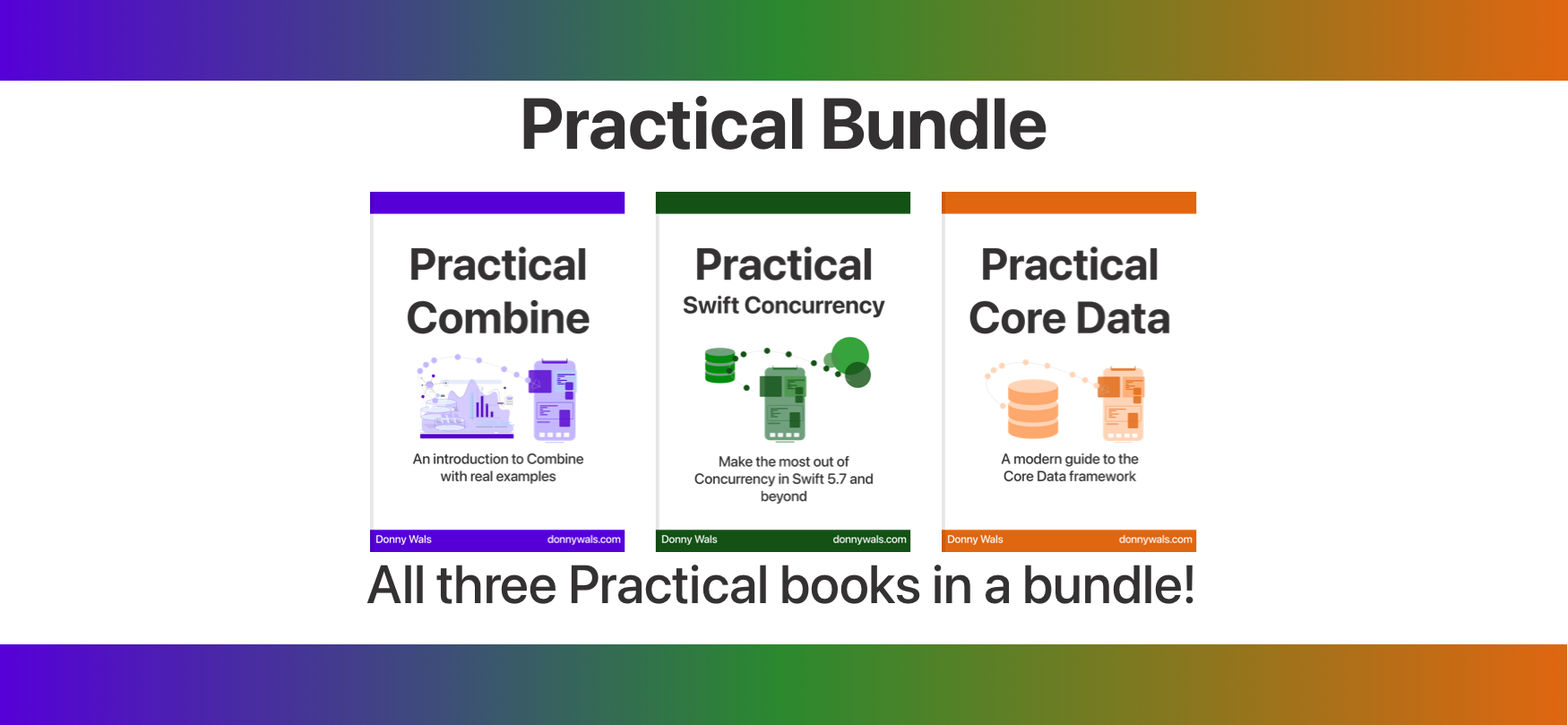 Level up your development skills with my Practical Bundle. The bundle contains all three of my Practical books. You will get Practical Combine, Practical Core Data, and Practical Swift Concurrency in a single convenient purchase. The bundle saves you about $15 compared to buying all three of my books. It's a great deal, and a fantastic way to deepen your development knowledge.
Check out the Practical Bundle
---
🎶 Currently on repeat 🎶
If you follow me on Twitter you probably know that I play guitar. I'm a huge music lover and want to share this with you. In this section I will share a new album that I've been enjoying a lot every week.
This band randomly popped into one of my Spotify lists and it's been a pretty cool blast from the past. Catchy songs, high energy, good vibes!
---
Other content that I really want to share with you
If you want to learn about using SwiftData in your SwiftUI previews, check out this video from Tunde where he goes over setting up your SwiftData stack using an in memory store which is ideal for tests and previews.
Copyright © 2023 Donny Wals, All rights reserved.
You are receiving this email because you opted in via my website.
Don't want to receive these emails? Unsubscribe here