Subscribe to my newsletter
Back to archive Wrapping up my conference season
This week I'm speaking at AppDevCon and it's the last talk I have planned in my calendar currently. Between you and me, it feels kind of good to have my calendar open up a bit in the next few months.
Conference speaking is loads of fun. I love doing it. It's energizing and it helps me connect with tons of people I would never have met otherwise.
On the flipside, speaking regularly does mean that I'm away from home a lot and that's quite taxing. So it's nice to finally put my suitcase away for a little bit longer than I usually do.
This conference season has been absolutely amazing and I would like to thank every organizer that has accepted my CFPs. I also want to say thank you to all the amazing people I've met at conferences. Both attendees and speakers. There's something so special about going to a place you've never been to before and meeting new friends.
If you're considering applying to conferences, I can only recommend that you give it a shot. There's so much versatility in iOS conferences with such a wide range of topics. From personal stories to extreme deep dives that boggle the mind, you can find it all at iOS conferences. If you're considering applying you probably have a story to tell. It could be inspirational, informative, or maybe a little funny. There might be a great talk in your story.
One of my favorite talks from this season wasn't even about Swift or iOS development per se. It was about elevators. No deeper lesson on Swift. No hidden lessons on how to write better code. Literally a talk on elevators and how we can encode an elevator's algorithm in Swift. The speaker (Soroush Khanlou) is someone who is extremely exicted about elevators and learned a lot about how they work. He's a Swift developer so he decided to see if he could encode elevator algorithms in a Swift program and then share his story with the world.
Maybe you have a similar obsession. Maybe you have a different story to tell. If you want to share your story, submit it to a couple of CFPs. I'm sure your story is worth being heard by others!
Anyway, I'm presenting at one more conference in Amsterdam before I'll start enjoying my summer (and work on getting our new house ready to move in to). After summer I'll probably have a couple of whole new talks ready to submit to conferences in hopes of having yet another amazing conference speaking season.
Cheers,
Donny
---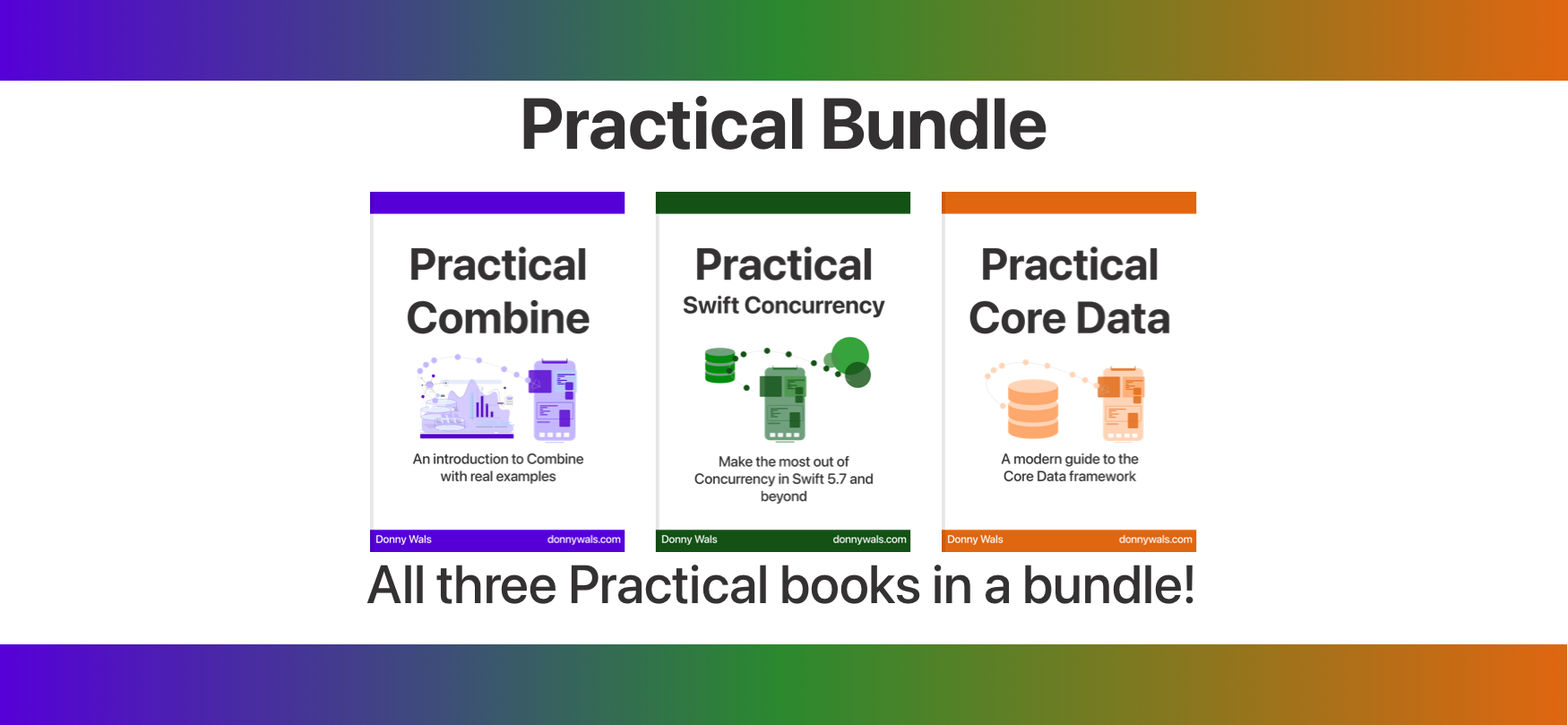 Level up your development skills with my Practical Bundle. The bundle contains all three of my Practical books. You will get Practical Combine, Practical Core Data, and Practical Swift Concurrency in a single convenient purchase. The bundle saves you about $15 compared to buying all three of my books. It's a great deal, and a fantastic way to deepen your development knowledge.
Check out the Practical Bundle
---
🎶 Currently on repeat 🎶
If you follow me on Twitter you probably know that I play guitar. I'm a huge music lover and want to share this with you. In this section I will share a new album that I've been enjoying a lot every week.
I've shared an album from Chvrches with you all a few weeks ago and to be honest with you, they've been on my playlist virtually every day since. Their latest album has been out for a while now but it's just as fantastic as their debut album. This album is horror-movie themed and I think "Final Girl" is one of my favorite tracks. Go give it a listen 😄
---
Other content that I really want to share with you
Swift 5.7 and earlier put some serious restrictions on declaring variables inside of a result builder. This has been changed in Swift 5.8 which allows us to do all kinds of interesting things inside of result builders. Sarun W. explains everything you need to know in this post.
Observing data in a modern way without using Combine is something that Swift doesn't support as well as folks would like. This interesting proposal on Swift Evolution aims to introduce a new Observability approach that uses async / await. It's quite an interesting proposal with a few rough edges that are worth reading about in my opinion.
Copyright © 2023 Donny Wals, All rights reserved.
You are receiving this email because you opted in via my website.
Don't want to receive these emails? Unsubscribe here