Subscribe to my newsletter
Back to archive WWDC is here
It's finally WWDC week! I'm starting to get more and more excited by the hour.
This year could be a very big one given all the rumors and expectations that people have at this point. If you'd ask me what I'm most excited for, I honestly don't know. Of course new hardware would be really cool. A big Core Data overhaul is pretty high up on everybody's wishlist. And of course just generally seeing where Apple will take all of the existing operating systems will be quite cool.
Throughout this week my focus will largely be on absorbing all the new goodness that we're getting, and deciding which topics I'd like to write about on the blog. You can definitely expect to see a couple of posts from me this week where I write about my first impressions on new APIs, and in the weeks after I plan to do a couple of deeper dives.
If this is your first WWDC, the upcoming week is going to be hectic. Apple will announce new OS versions, features, maybe hardware on Monday in the main keynote. After that, they will have a presentation calls State of the Union. This is always the presentation to watch for developers. It's a more technical look at the new features that were announced during the keynote so you really don't want to miss it.
In the days after, Apple will release videos where they talk more about new APIs, show demoes, and there's often plenty of videos with good insights for existing APIs and frameworks too. It will be a content-packed week.
And of course there will be beta Xcode, iOS, macOS, etc. versions that we can use to try all these new goodies for ourselves.
Here's the key trick though.
You don't have to know, see, and try everything immediately. You are not behind if you haven't explored a single API by the end of the week. No matter how much content people like me produce, you have plenty of time to consume everything related to WWDC. New features won't be officially release until September or later anyway, and even after that you don't have to know everything about the new OS versions.
Focus on enjoying the madness, watch videos that sound interesting to you, and explore what you believe to be fun or useful.
You don't have to be first, you don't have to run faster than everybody else. Unless you want to of course. The point is, it's fine to take your time; you won't be behind if you're focussing on other stuff right now.
Cheers, and have a great week!
Donny
Ps. there are still tickets available for my Swift Concurrency workshop on June 29th. Don't miss out on your change to join and grab your tickets today 👍🏼
---
This sponsored message helps keep the content on this site free. Please check out this sponsor as it directly supports me and this site.
---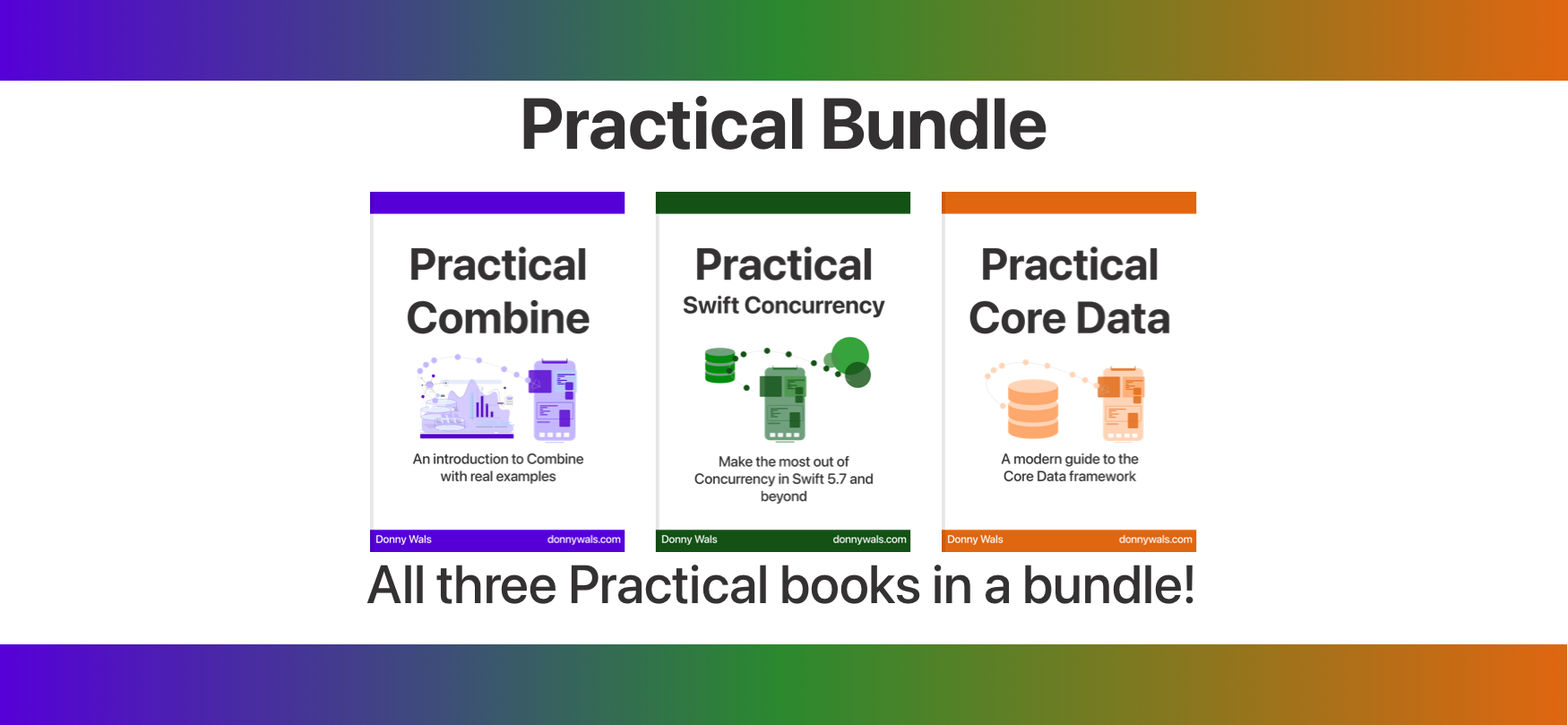 Level up your development skills with my Practical Bundle. The bundle contains all three of my Practical books. You will get Practical Combine, Practical Core Data, and Practical Swift Concurrency in a single convenient purchase. The bundle saves you about $15 compared to buying all three of my books. It's a great deal, and a fantastic way to deepen your development knowledge.
Check out the Practical Bundle
---
🎶 Currently on repeat 🎶
If you follow me on Twitter you probably know that I play guitar. I'm a huge music lover and want to share this with you. In this section I will share a new album that I've been enjoying a lot every week.
I've probably shared this album before, and I'll share it again now. Underoath isn't the easiest band to listen to; their music can be quite dissonant and chaotic at times while at the same time having awesome hooks and melodies. This album is probably one of my favorites from them and I can only recommend you to check them out.
---
Other content that I really want to share with you
On June 29th I'm organizing a half day workshop that people can attend remotely to learn more about Swift Concurrency. Make sure to check out the workshop if you want to learn more about Swift Concurrency, how you can start using it, and what its caveats are. If the workshop outline sounds like something that would benefit your entire team, let me know and we can set up a private workshop for you.
There's not much on this link just yet but once WWDC gets underway next week there will be tons of great content to read and explore. Bookmark this link now and don't miss out on anything!
Copyright © 2023 Donny Wals, All rights reserved.
You are receiving this email because you opted in via my website.
Don't want to receive these emails? Unsubscribe here