Subscribe to my newsletter
Back to archive Using the right tools for the job
Over the past couple of weeks I've been doing a bunch of work on the house that me and my family will move into later this year. It's a big renovation project and most work will be done by contractors but I couldn't resist doing some of the work that needs to be done myself. I actually find DIY work to be quite enjoyable and there's tons of satisfaction to be gained from working on projects in my own house.
In any event, doing all this DIY work reminded me of the importance of using the correct tools for a given job. Whether it's some thing small like picking the right screwdriver to loosen a screw or grabbing the correct gear for plastering a wall, the job gets done quicker, better, and easier when you make sure you use the right tools.
In a DIY project it's often obvious when I'm not using the right tool for what I'm doing. The job feels tedious, I probably damaged something, I'm struggling, and the universe seems to be working against me. Switch to a different tool and the job could not be easier.
When programming, this feedback isn't always as obvious or immediate as it is when trying to drive in a nail with the rear end of a battery powered drill.
That said, programming and DIY work are quite similar in terms of incorrect tools working actively against you. If you're working on an app that makes heavy use of callback based APIs introducing something like RxSwift or Combine might not be a great experience. Or maybe your project requires tons of features that SwiftUI doesn't provide yet. There's also a good chance that you're using an architecture like MVVM or TCA when something else would be much more appropriate.
Sometimes the feedback is quick and you can change course. Other times the feedback is much slower and changing course would be a very costly investment so you'll need to figure out a way to make your tooling work in an acceptable manner.
Krzysztof Zabłocki delivered an awesome talk at Swift Heroes this year that I can't link to yet (the talk isn't available yet) where he talks about making an architcecture decision that might not be a perfect fit, and how you can backpaddle and figure out the best way to adapt and adjust without starting over. It was quite interesting and a good example of how it's not always obvious when we're using the wrong tool for a job in programming.
Anyway, the bottom line is I'm doing a lot of DIY work and it's making me think of ways that DIY lessons can apply to programming. I'm pretty sure something DIY related will bleed into a conference talk or two towards the end of the year!
Cheers,
Donny
---
This sponsored message helps keep the content on this site free. Please check out this sponsor as it directly supports me and this site.
---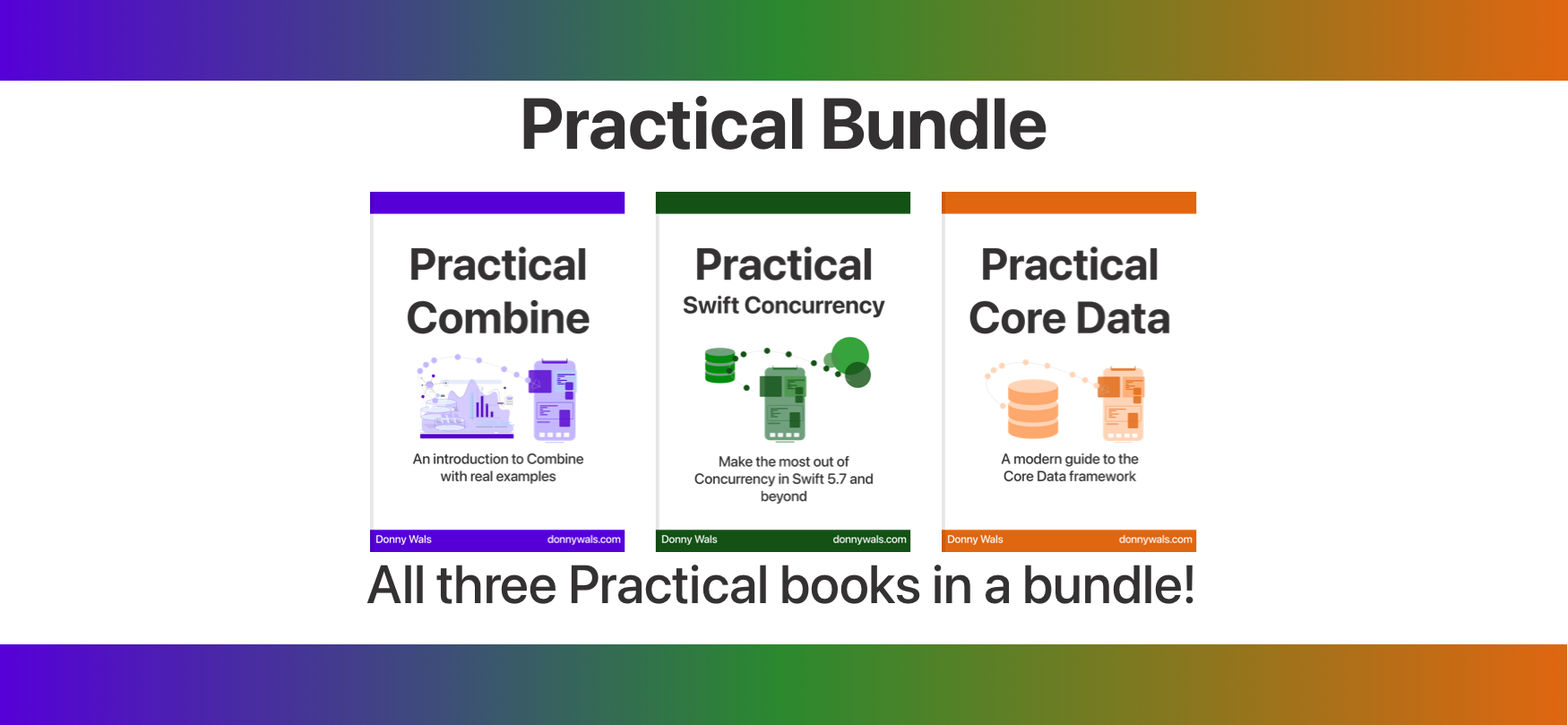 Level up your development skills with my Practical Bundle. The bundle contains all three of my Practical books. You will get Practical Combine, Practical Core Data, and Practical Swift Concurrency in a single convenient purchase. The bundle saves you about $15 compared to buying all three of my books. It's a great deal, and a fantastic way to deepen your development knowledge.
Check out the Practical Bundle
---
🎶 Currently on repeat 🎶
If you follow me on Twitter you probably know that I play guitar. I'm a huge music lover and want to share this with you. In this section I will share a new album that I've been enjoying a lot every week.
Ever since Skrillex dropped his latest album and started doing these amazing pop up shows with Four Tet and Fred Again… I've developed somewhat of an obsession for this trio. Fred Again's musical ability and talent is truly amazing and I genuinely play his stuff for hours and hours on end. If you're not familiar with him, check out this album. It has some of my favorite tracks.
---
Other content that I really want to share with you
On June 29th I'm organizing a half day workshop that people can attend remotely to learn more about Swift Concurrency. Make sure to check out the workshop if you want to learn more about Swift Concurrency, how you can start using it, and what its caveats are. If the workshop outline sounds like something that would benefit your entire team, let me know and we can set up a private workshop for you.
Copyright © 2023 Donny Wals, All rights reserved.
You are receiving this email because you opted in via my website.
Don't want to receive these emails? Unsubscribe here