Subscribe to my newsletter
Back to archive Planning the second half of the year
Throughout my career I've either been planning for the super long term, setting goals that I want to achieve over the next 10 years or so, or I've been planning for the short term. I've never really been one to do planning for a quarter or for part of the year.
And to be honest, I like working that way. It allows me to be flexible, and it allows me to shift my attention to wherever I feel it's needed without feeling like I'm failing to execute on my planning. In the end, one of the most important things to me is consistently performing whichever work I think matters. I've never really set any goals in terms of website visitors, Twitter followers, or even the amount of revenue I generate with my books.
It's pointless to focus on numbers.
Instead, I'm trying to consitently perform the kind of work that will make my numbers go up anyway.
There's a subtle difference but it's a difference that matters to me. Instead of focussing on my goals, I'm focussing on habits. Small things that I can do every day, week, or month. And each of my habits help me grow and learn. And as you can imagine, they also help me achieve the kinds of success I'm looking for.
In any event, a lack of planning or setting goals does not mean that I don't look forward and it doesn't mean that I don't have a list of things I'd like to do.
There's two things that I'm exploring right now for the second half of the year. One of them is pretty huge and I'm trying it out next month. I'm offering a four hour version of a workshop I normally use as a basis for private workhops that folks can attend online.
The workshop is about four hours long (a little more actually) and teaches you all the important bits and pieces to get started with Swift Concurrency. The first cohort of this workshop will happen on June 29th at 1PM CET. This makes sure that people from almost anywhere in the world can attend. The ticket price is €195, and you will walk away with loads of Swift Concurrency knowledge, study materials, and a sample app. Attendees will get a certificate that they can use to show their employer, future employers, or to frame and hang in your office if you like.
We'll need to have a group of at least eight attendees to make the workshop happen, and if I need to cancel you will get a quick refund of your ticket; no hassle. We currently have half of the required tickets sold so I'm confident the workshop will happen as planned.
So yeah, that's one of the things I want to do more off in the second half of the year and this first cohort is just the tip of the iceberg. I'm working on a SwiftUI workshop as well as a workshop on Instruments so keep an eye on my socials and this newsletter if that sounds interesting for you.
The other thing I'm working on is video related. As much as I prefer learning from text myself, it's pretty clear that there's a demand for video out there. So I'll finally start exploring video options and you'll probably start seeing some experimental videos pop up soon.
Cheers!
Donny
---
This sponsored message helps keep the content on this site free. Please check out this sponsor as it directly supports me and this site.
---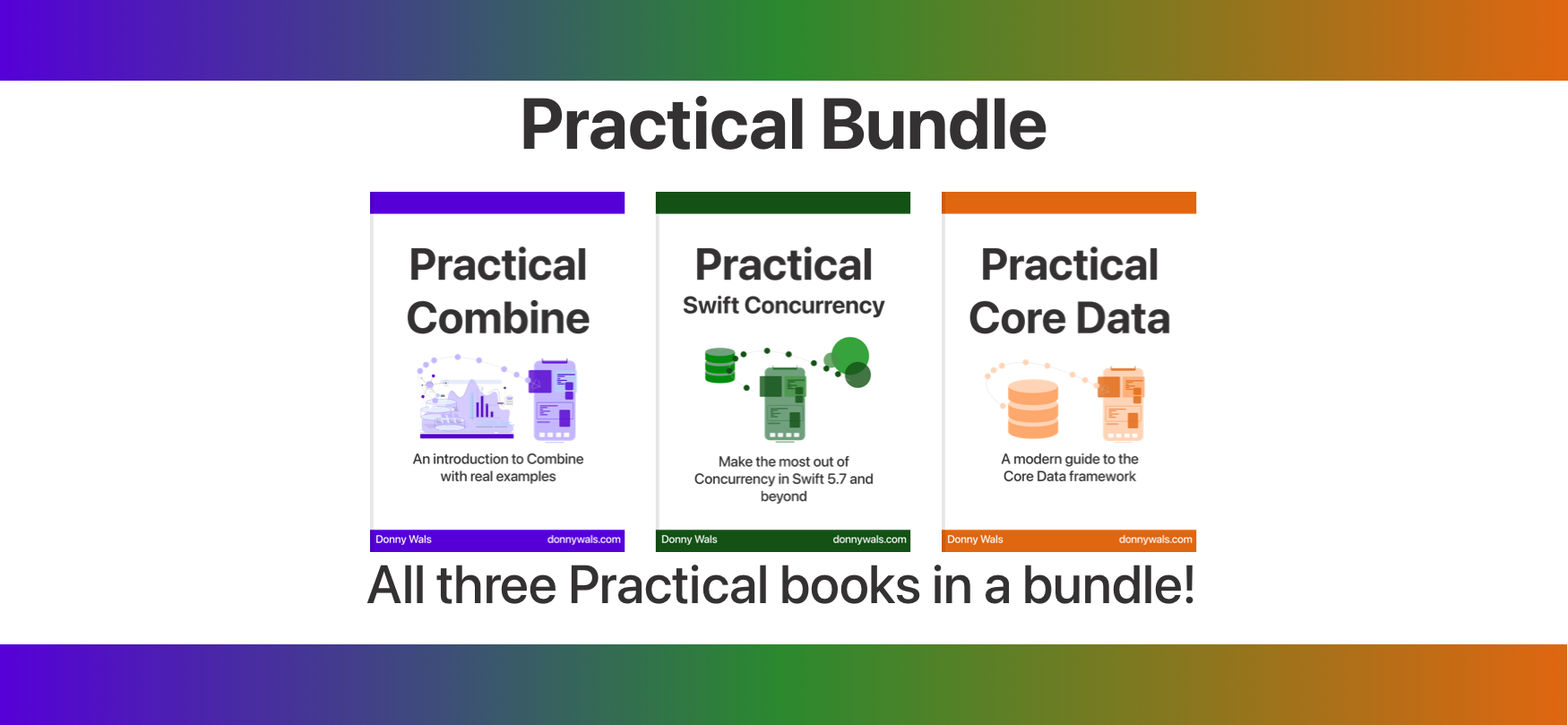 Level up your development skills with my Practical Bundle. The bundle contains all three of my Practical books. You will get Practical Combine, Practical Core Data, and Practical Swift Concurrency in a single convenient purchase. The bundle saves you about $15 compared to buying all three of my books. It's a great deal, and a fantastic way to deepen your development knowledge.
Check out the Practical Bundle
---
🎶 Currently on repeat 🎶
If you follow me on Twitter you probably know that I play guitar. I'm a huge music lover and want to share this with you. In this section I will share a new album that I've been enjoying a lot every week.
I've been a fan of Enter Shikar for over ten years at this point and with every new album these guys seem to surprise me. When I first heard their latest album I must admit that I thought that this is where they had lost me. But after a few listens it's starting to grow on me again. Check it out if you're into music that pushes genre boundaries in a fun and interesting way.
---
Other content that I really want to share with you
Don't miss out on next month's concurrency workshop. It's going to be fun and you'll learn a ton about Swift Concurrency 😄
Copyright © 2023 Donny Wals, All rights reserved.
You are receiving this email because you opted in via my website.
Don't want to receive these emails? Unsubscribe here