Subscribe to my newsletter
Back to archive The importance of data modeling in your app
Hey! Happy Monday to you all :)
Over the past couple of years I've worked with SwiftUI a lot. It's honestly the UI framework I use most these days, especially for any sample apps or exploration work that I do.
One topic that I've always found interesting in my career as a developer is data modeling. Or maybe I should call it data flow. I'm honestly not entirely sure which term describes the topic best…
Either way, early on I was fascinated by event-driven programming. I would build small modeules of code that would subscribe to events that were fired off globally on a website for example. In practice this meant that some module in the app would listen for a handful of specific events and hope that another module in the app existed to send these events along with the correct information.
This is quite similar to having an app where notification center is your primary method of communication between modules in your app. This is obviously not great, but it can work. And about ten years ago this was a very valid way to architect your data flow on a webpage until better solutions like Angular and React took over.
On iOS I've always enjoyed the MVVM architecture where my view models owned data and held references to what I like to call sources of truth. Sometimes that's a networking object, other times a database object, or maybe an object that itself has a reference to multiple sources of truth.
The point is that my primary concern while coding is always "what's the source of truth for this view" regardless of the UI framework I chose. However, it seems an increasingly important question to ask when you work on SwiftUI apps. Choosing the correct source of truth for your view's data can be the difference between a fast app and a slow one.
For any view I write the view model is often a source of truth. But sometimes it makes more sense to have separate view models, or to have direct access to some type of coordinator or controller. To me, there's hardly ever a rule that I follow everywhere in the app. It's a case by case evaluation that leads me to deciding how I'm structuring things.
One extremely important factor that I always take into account is that I want my code to be easy to adapt. Not easy to replace. Easy to adapt. This is especially true when we talk about sources of truth.
It's often easier to decide what the source of truth for a given view needs to know and then model that than it is to write a source of truth for your entire data model. It makes sense that your narrow source of truth depends on a larger underlying storage while only exposing tiny bits to the outside world for example. This approach allows you to rescope things as needed, and by sharing a central-ish source of truth it becomes relatively straightforward to keep your entire app in sync.
Anyway, I'm starting to ramble…
By thinking about how data in your app should flow, and by thinking about which object should own which state you can really improve the way your codebase evolves over time. Making great choices now is good, but being able to quickly evolve and adapt your codebase later on is even better.
Cheers!
Donny
---
This sponsored message helps keep the content on this site free. Please check out this sponsor as it directly supports me and this site.
---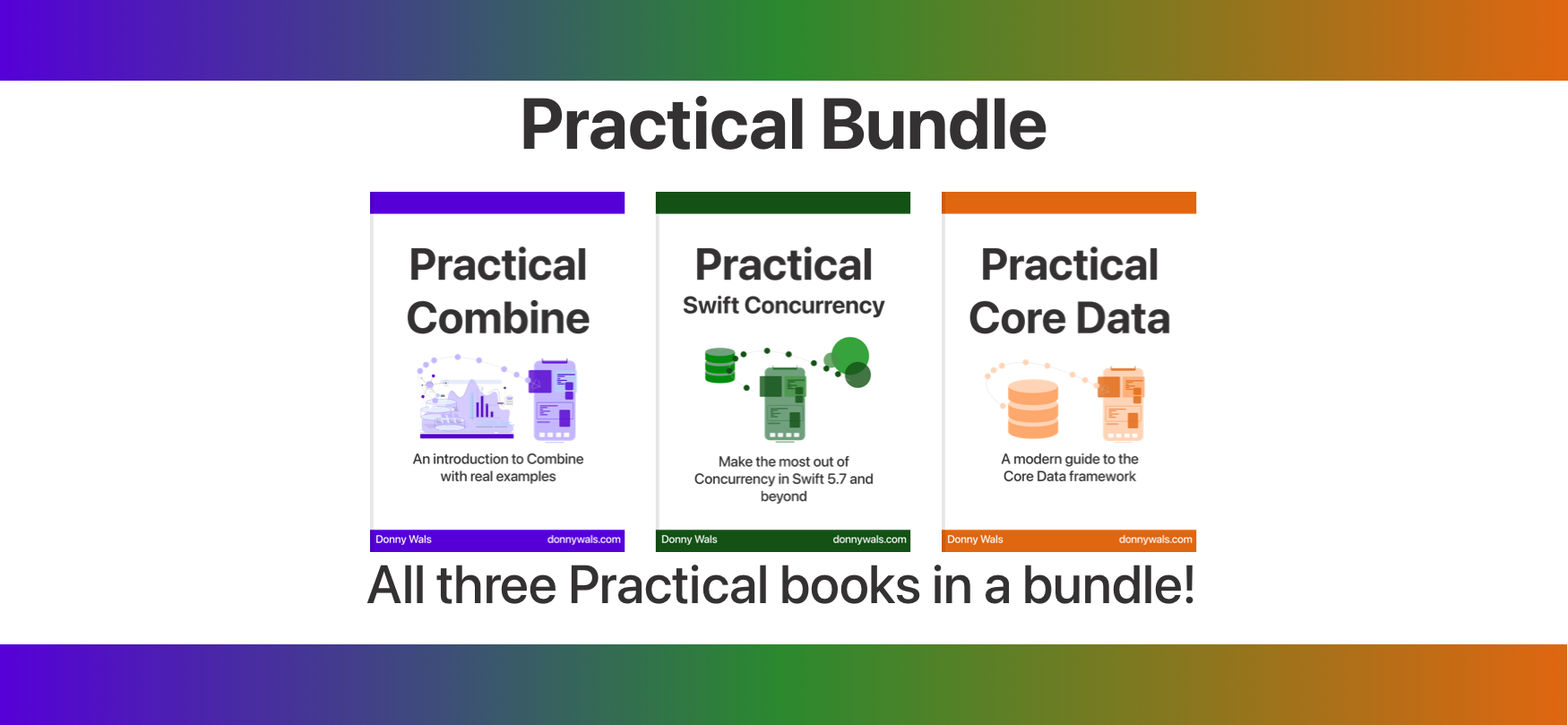 Level up your development skills with my Practical Bundle. The bundle contains all three of my Practical books. You will get Practical Combine, Practical Core Data, and Practical Swift Concurrency in a single convenient purchase. The bundle saves you about $15 compared to buying all three of my books. It's a great deal, and a fantastic way to deepen your development knowledge.
Check out the Practical Bundle
---
🎶 Currently on repeat 🎶
If you follow me on Twitter you probably know that I play guitar. I'm a huge music lover and want to share this with you. In this section I will share a new album that I've been enjoying a lot every week.
I'm pretty sure I've shared this album before but I just can't get enough of it. If this album is new to you, give it a go! It has some proper catchy songs on it.
---
Other content that I really want to share with you
Join me in this online workshop on Swift Concurrency. We'll explore all the important parts of Concurrency in Swift in about four hours, leaving you with a solid understanding of how you can make use of Concurrency related APIs in your app, all the way from async / await to async sequences.
SwiftUI on iOS 17 has gained a new property wrapper; @Bindable. This is great but… what is it used for? Learn everything you need to know in this week's post!
Copyright © 2023 Donny Wals, All rights reserved.
You are receiving this email because you opted in via my website.
Don't want to receive these emails? Unsubscribe here